---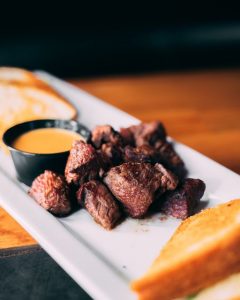 Driftwood's steak bites appetizer is a huge crowd-pleaser! Driftwood has fourteen appetizer options that can satisfy anyone's palettes. However, Filet Tips (steak bites) are always in demand. Although our restaurant has an excellent selection of steak dishes, Filet Tips are often ordered as entrees and even as a meal! So, what makes this dish so appealing?
Steak Bites Appetizer
When people order our Filet Tips, customers experience a savory dish that stimulates their taste buds. All orders are made with fresh and generously cut steak filets that are cooked to the customer's tastes. Depending on the order, these steak bites have a cajun seasoning coating, giving each bite a spicy tang. People can also order the Filet Tips plain, removing the spicy taste but keeping the delicious flavor! Each sizzling dish is served with garlic bread and our house dipping sauce. Sound good? Many customers agree with you!
Why Do People Love Our Steak Bites?
Driftwood will ask regulars what they like about specific dishes. One of our regulars, Shari, drives from Plymouth to order the steak bites at Driftwood! She also visits our other restaurant, Oakwood Grill in Dearborn Recently, we asked Shari why our steak bites are the best, and here is what she said:
"I'm a steak person! Their tips are always cooked right and I can tell this dish is made out of a good cut of steak. Best part? I don't feel like I need to order a full steak!"
This sentiment is common among other customers who often order Filet Tips as their main dish. Furthermore, many people like the options for plain or spicy versions of this dish. Also, the appetizer has bread. Everyone loves bread! It is clear to see why Filet Tips are so popular. In addition, Driftwood has plenty of amazing dishes to try!
Dinner at the Driftwood
Interested in trying our steak bites appetizer? Drive down to Driftwood and order a plate! Curious about the other items on our menu? If you like steak, you should try our Tenderloin Medallions! If you want something similar to the Filet Tips, you can order our Steak & Smashed. We have plenty of spicy dishes as well! Our lakefront restaurant with deck dining has plenty of options for you to try and enjoy!
---
Want to keep up with the latest news from Driftwood? Check out the Feed Me blog!