---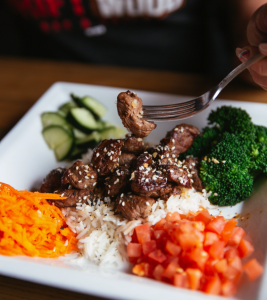 Big changes have arrived at Driftwood Bar & Grill's menu! 
Driftwood loves serving high-quality meals to our customers. From our appetizers to entrees, Driftwood wants our diners to enjoy every bite. In addition, we want to use the best ingredients available. That is why our restaurant is now using Wagyu Beef and Amish Chicken in our dishes. These new meats are non-GMO and make all of our beef and chicken dishes better than before. What is so special about offering Wagyu Beef and Amish Chicken options?
Benefits of Non-GMO Ingredients
For those who are not aware, GMOs refer to genetically modified plants and animals. These modifications make ingredients gain traits that do not naturally occur in nature. Some of these modifications include making plants and animals grow faster and more resilient to diseases. While these modifications are an attempt to improve produce and meat production and survivability, there have been many safety concerns around them. This is due to growth hormones and antibiotics pushed into the ingredients. Furthermore, GMOs can be found throughout your grocery store and in processed foods.
On the other hand, non-GMO plants and animals are free from all of these hormones and provide diverse food in your diet. Non-GMO products are also environmentally friendly because they do not damage the soil with the chemicals they are injected with. In addition, they have more nutrients than their GMO counterparts and are 100% natural! Using these ingredients also supports local farmers. How?
Wagyu Beef and Amish Chicken
Driftwood scouted different local farms to find the best non-GMO beef and chicken in order to provide healthy food products for our customers. After months of searching, we finally found the perfect choice! All the animals are free-range, meaning they are all-natural. In fact, our beef and chicken dishes have never tasted better! Our chickens are bigger and our beef is juicier! But don't take our word for it. Come and taste it for yourself! Check out our menus right now!
---
Read More About Driftwood Novi in our Feed Me blog!