---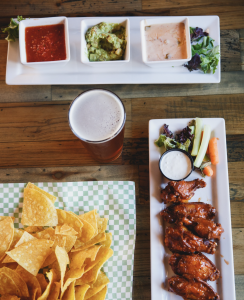 When going out to eat, you want to start with great appetizers. At restaurants, appetizers can be the pregrame snack to an amazing lunch or dinner. Contrarily, lackluster options can bring the overall experience down. Fortunately, Driftwood Bar & Grill has an extensive menu of starters to choose from. Now, which one should you choose? Here are 3 great appetizers that will make your palate tingle.
Beer Pickles
Pickles can be a delicious treat on a regular day. But Driftwood's Beer Pickles makes it a must-have appetizer. This appetizer is made with Toper's pickles that are lightly dusted, batter with a beer coating, and fried to perfection! These delicious pickles are paired with some tangy Cajun ranch. This great appetizer is the perfect starter for any of our dishes, especially our sandwiches and burgers.
Brussel Sprouts
These aren't the same brussel sprouts that you would push away when you were a child. These oven-roasted sprouts are tossed with roasted walnuts and caramelized cranberries in a honey balsamic reduction. Yum! Start off with a side of refreshing veggies before diving into the main course!
Mac & Cheese Bites
Who says you need a spoon to enjoy some good mac & cheese? Our mac & cheese bites are made with smoked gouda that is lightly battered and then deep-fried to golden perfection! Each serving of these bites comes with your choice of dipping sauce. For fans of our house mac & cheese, this can be the crunchy change-up that you are looking for.
None of these to your liking? We have chips and salsa, calamari, and of course our amazing steak bites. Before every full meal, you should set the stage with a great appetizer. At the Driftwood we don't make it easy. What do you say?  Well, with so many choices on our menu, it may take you a while.