---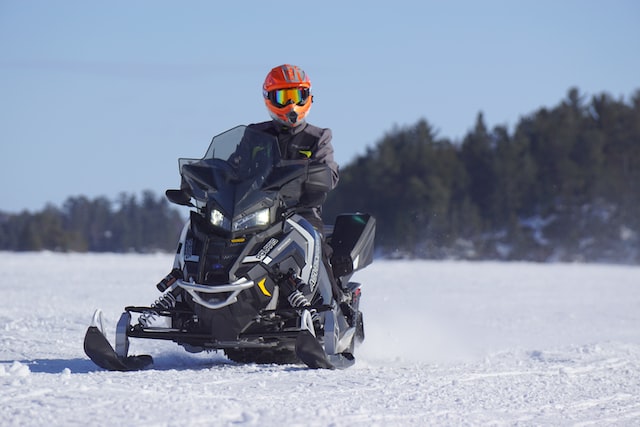 Driftwood Bar & Grill is an ideal spot for snowmobiles. Michigan winters always make living by the lakefront fun. Especially when the snow falls and the lake freezes over. On days like these, snowmobiling can be an amazing activity. However, on those chilly days, finding a place to warm up and rest is important. That is why Driftwood is an excellent spot for snowmobilers to stop.
Access to Walled Lake
When Walled Lake freezes over, many locals and visitors take advantage of the frozen surface. People will play baseball games out on the ice. Nope, not kidding, we've seen it! Others will clear an area to skate or go ice fishing. The best, however, may be those who ride snowmobiles across the lake. People who own lakefront properties have easy access to Walled Lake. Others, ride local snowmobile trails.  However, people find easy access to get in and out of the lake in front of The Driftwood Bar & Grill where there is a dock area, and quick hop across the road to the huge deck facing the lake. Snowmobilers can dust off and walk right in quick bite or park and watch a sporting event on more than a dozen large-screen TVs.
Relaxing Atmosphere
When it comes to premiere dining location, Driftwood Bar & Grill is second to none! The restaurant has a relaxing and warm location that feels cozy like a log cabin! On top of a good atmosphere, we have a variety of dishes that can satisfy anyone's palette. Whether you are just peckish or starving, we have an expansive menu that you can choose from!
Ideal Restaurant Stop for Snowmobiles
When it comes to the best snowmobile stop in Walled Lake, Driftwood Bar & Grill places number one. With lake access and delicious food, snowmobilers can sip hot drinks before and after their time on the ice! So, stop by for brunch, lunch, or dinner today!
---
Check out our Feed Me Blog!