---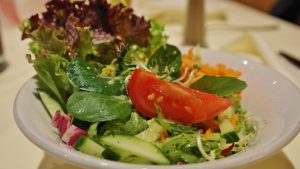 Many people looking to live a healthier lifestyle are pursuing gluten-free diets. Gluten is a type of protein found in grains such as wheat, rye, and barley. It can be found in foods like bread, cereal, candy, and beer. In general, gluten-free foods tend to have less sugar and fat which makes them good food options to eat on a diet. If your goal is to lose weight, gluten-free foods may be the right choice for you! 
Furthermore, certain health conditions can prohibit people from consuming gluten at all. Celiac disease is an autoimmune disorder that causes the body to attack the small intestine upon the ingestion of gluten. When individuals consume it, they can experience extreme pain and discomfort. Some people have a mild gluten intolerance as well. These individuals can experience bloating, nausea, and indigestion after eating any food containing gluten. 
Gluten-Free Food Options at Driftwood
Here at Driftwood, we have a diverse menu that accommodates many special diets, including gluten-free diets. The key to avoiding gluten is avoiding bread, fried foods, and processed meals. Our menu has a variety of meal options that you can choose from. 
For example, we offer several salads that are gluten-free. Our "Big Salad" minus croutons, "She's Nuts Berry", "Grand Avocado Salad",  and "Julienne Salad" minus croutons do not contain any gluten. Some of our other salads contain gluten in the meat breading or toppings but grilled substitutes or topping removal requests can be accommodated.
Several of our entrees also do not contain any wheat, rye, or barley. Our Maui Chicken, Steak and Smashed, Char-Grilled Filet, Ribeye, Tenderloin Medallions, Fresh Blackened Salmon, Shrimp Scampi, Korean Beef Bulgogi Bowl, and Lamp Chops are entirely free of gluten. Unfortunately, our pasta does contain gluten which we can not accommodate for.
The "Hard to Handle" portion of our menu includes burgers and sandwiches. While the meat itself is gluten-free, the buns and sandwich bread do contain gluten. So, if you are planning on ordering a sandwich, make sure to ask for a side of lettuce to make a lettuce bun or some silverware to eat it that way!
If you have any allergies or intolerances, notify your server at Driftwood. We will make sure that you enjoy your meal with the utmost care and attention. Head over to Novi and visit Driftwood today!